I'm back from vacation and not yet ready to blog about all the books I read. Here's a view from my vacation deck that I looked at while I read: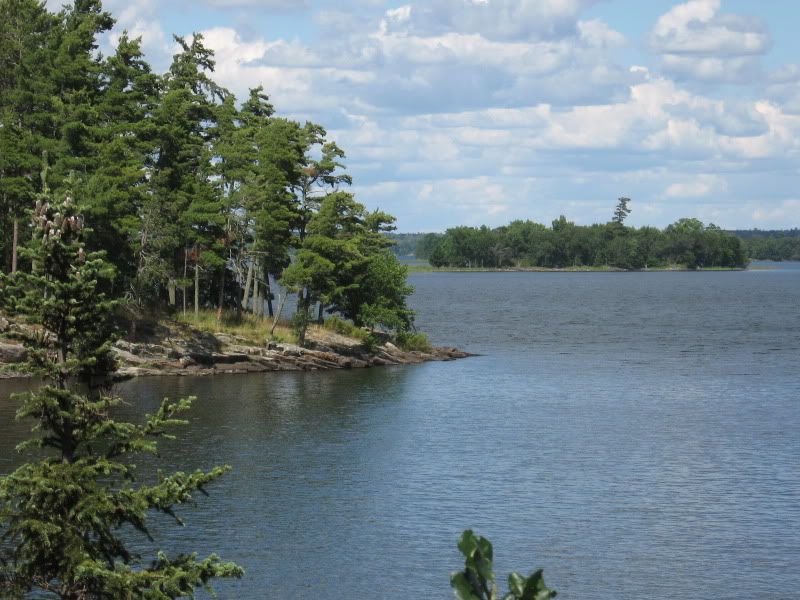 Yes, sometimes I find it distracting. This year the weather was beautiful. High's in the mid 80's and lows in the 50's and 60's. We even had rain (!!!) a few nights.
But now I'm back. The weather is much better than when I left so it is tempting to get outside during the day - until I actually get outside into the downtown concrete with temps in the mid 90's. But today I was looking out my window at the office and thought, hmmm. Here's my view if I look to the right:
Yep, that's the St. Louis Arch (formally known as the Jefferson National Expansion Memorial) with the Mississippi River in the background and the Old Cathedral in the bottom right hand corner. And the really ugly highway system in the foreground that separates Downtown from the Arch Grounds. There are now funds and a plan to fix that problem and connect the Arch grounds to Downtown by putting all the lanes underground but that will take a while.
Anyway, it doesn't look like it, but there is actually a fair amount of shade on the Arch grounds. And usually nice breezes because of the river. It has been too hot this summer to really take advantage of it, but today I decided to walk over there and it was delightful - once I got past all the concrete. Here's the path I took from the south leg.
The picture doesn't show it but there were a fair amount of people over there today. Lots of tourists because it was a Cardinals baseball day and lots of downtown workers jogging and walking and eating lunch on the benches.
More about all the books I read on vacation when I get more organized.