Some stuff:
Dollhouse News. Via Jen and Manuel I heard that Fox is going to renew Dollhouse for another 13 episode season.  So I headed over to Whedonesque where Joss himself posted a comment:
Any thread that contains both "Shpadoinkle" and "Yub Yub" is truly exciting. And anything that reunites me with my stunning cast and my crazy staff (or "room fulla Tophers", as I call them) is nothing short of a gift. Heady times, indeed. We're two weeks away from finishing "Cabin" and now it looks like no summer vacation after all. But oh, the terrible things my brain is brewing... Just wait. We'll make it worth it.
Thanks for hanging in.
Apparently all of us watching on Hulu counted!  Not to mention those who use DVRs.  ABC also renewed Castle which I've been watching on Monday nights.  I love Nathan Fillion so that's good news.  It's exactly the kind of mindless show that's perfect for a Monday night.  Now, if we could only have a sequel to Dr. Horrible ...
Some local news.  Last night I checked out the new Moonrise Hotel over on Delmar for the first time, starting with drinks on the Rooftop Terrace lounge and continuing into the inside bar at Eclipse (the restaurant there).  The hotel was packed, probably with folks in for the graduation at nearby Washington University.  The decor was pretty funky with stairs in the lobby that have each step lit up with a primary color light (I can't explain it better, check out the website).
It was not an easy location to get to, coming from Clayton on a Friday night with Highway 40 still closed.  But once I was there and over my commute-stress I enjoyed being on the rooftop.  And my mojito was excellent (although they don't have waiters and the bartender was slow as molasses).
It was an odd night to be at a rooftop bar because there was bad weather to the north and a tornado watch for the area.  But we figured there was no better place to watch for a tornado than on top of a building.  No, we never saw one.  Here's a photo: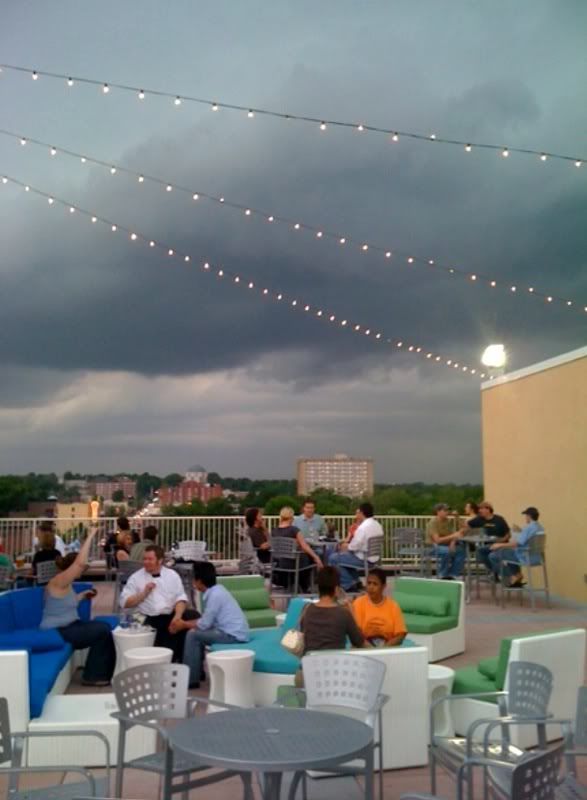 When the weather did start turning rainy and windy we headed downstairs where we split some Salt & Pepper Fried Calamari with jalapeno garlic butter that was truly scrumptious.   It was so good we decided to stay for dinner (although we stayed in the bar and didn't move into the restaurant).  
I had Lobster Pot Pie, billed as brandied lobster cream, golden potatoes and english peas in a pastry.  Sounds yummy doesn't it?  But I thought it was a little disappointing - the pastry was a puff-type pastry shaped in the form of half-moons but the "stuff" wasn't inside the pastry, they just sat alongside.  That isn't pot pie, at least not my definition.  For dessert I wanted the Berry Shortcake Trifle (mixed berries layered with shortcake biscuits and creme chantilly) but they were out of it so, instead, I tried the Cointreau Cornmeal Pound Cake which looked like a wedge of my grandmother's corn bread (and tasted like it) with cointreau flavored cream on top and some cointreua soaked oranges.  I like cornbread ... but not for dessert. 
So, the food was a mixed experience.  But the late night menu looks good so maybe it would be a place to go after seeing a movie at the Tivoli or after an event at The Pageant next door (if I ever get to an event at The Pageant).  One big complaint from the folks who rode their bikes - there is no bike rack.  Unacceptable in an urban environment.  But the manager assured us that they were getting one and it would be some hip design.
Home Improvements.  I'm in the midst of home improvements and boy are those things expensive.  I just had the back steps leading up to my back door replaced.  They were old wooden steps that were painted white and were starting to rot away.  I had them replaced with steps made out of the composite material that you can just hose off and I think they look really nice.  I also had the area around my front door worked on.  I'm sure my neighbors are relieved to have a clean white sunburst over my door rather than the peeling one that was there for the last year.  Next we move on to the patio and finishing the backyard fence.  Then (finally) I can start doing something to the inside.  Then it will be time to move.  Kidding.  But isn't that what always happens?